Clarinetists
Aleksandar Tasic
"Throughout all my years of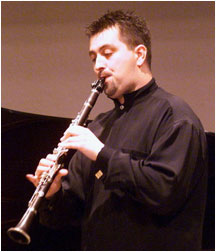 clarinet playing, I have continually been looking for a "perfect" reed which could give me a dark, mellow, and tender sound with great sonority. I recently had the chance to try Alexander Classique Clarinet reeds and after only a few moments, I realized that I'd finally found the type of reeds I had been looking for all my life Response in all the registers is excellent, dynamic range is just great ( I can play forte without losing warmth of the tone ) and after hours and hours of playing, these reeds keep their consistency and full color qualities. The sound is so warm and mellow, staccato can be played much easier with great sonority in all registers and the intonation is much better too. They are the most reliable and durable reeds I have ever used and my sound is much improved. As a matter of fact, at a recent Chamber Music Concert in Schloss Elmau, Germany playing the Schubert Octet, and the first time I used Classiques in a live recital, my colleagues asked me, "Did you change something? They noticed the difference right away!

Playing on Alexander Classique Clarinet reeds gives me an enjoyable feeling and I would advise all clarinetists from around the world to try them because I believe that these reeds will change their musical lives.

I am very grateful to Tom Alexander and his colleagues for producing such excellent clarinet reeds. BRAVO!!!"

Aleksandar Tasic is a solo clarinetist of international distinction. Studying music in his native country of Serbia since childhood, he graduated with both undergraduate and Masters degrees from the Academy of Arts Novi Sad and Master classes with Professors Ricardo Morales, Michael Collins and Michele Arrignon, Mr. Tasic soon established a fine reputation as a clarinet soloist.

In 1988, 1989 and 1991, Mr. Tasic participated and won First prizes at State and Federal competitions and Festivals for Students of Music in Yugoslavia (Prijepolje, Belgrade and Herceg Novi) and in 1997, he was semifinalist at The International Competition of Young Musicians in Belgrade. The same year The University of Novi Sad gave him THE SPECIAL REWARD for the highest achievements in music activities and in 1998, he won First prize in the competition Laureats of Orfeus, Belgrade.

Starting in 1998 as First solo clarinet, Chamber Opera Madlenijanumñ Zemun and later in 2000 as First solo clarinet, UBS Verbier Festival Orchestra (resident orchestra of the Verbier Festival & Academy Switzerland), under music director, Maestro James Levine, Mr. Tasic has performed under the batons of Maestros Zubin Mehta, Kurt Masur, Kent Nagano, Wolfgang Sawalisch, Cristoph von Dohnanyi, Paavo Jarvi, Claudio Vandelli, Charles Dutoit, Valery Gergiev, Neeme Jarvi, etc.

In addition, he has been on four international tours with the same orchestra: in Europe 2000. ( Barcelona, Madrid, Frankfurt, Munich, Paris, Zurich, Rome, Milan, London, Berlin ); North and South America in 2001. (Toronto, New York, Chicago, Miami, Mexico City, Sao Paolo, Buenos Aires ); Europe in 2002. (Munich, Paris, Bologna, Zurich, Warsaw, Madrid ); Europe and Asia in 2003. ( Moscow, Munich, Paris, Lucerne, Basel, Pataya, Bangkok, Singapore, Tai Pei, Hong Kong, Bombay).

In 2002, The Austrian Government awarded him a stipend according to the PSG program.
Since 2001 he has also served as First solo clarinet, Symphonic Orchestra ñ Vojvodinian Symphonics from Novi Sad, and First solo clarinet , Subotica Symphonic Orchestra, Subotica, Serbia.

In 2004, Mr. Tasic played with the Subotica Symphonic Orchestra, NOMUS, Novi Sad Music Festival, with the Belgrade Strings (Orchestra), the Woodwind quintet Synergia, Voivodina Symphonic Orchestra in Novi Sad, Music Festival in Bangkok (Chamber music concert, Mozart Clarinet Quintet) Chamber Music Concert with the members of UBS Verbier Festival Orchestra and in Zurich, Switzerland. Mr. Tasic has begun 2005 with a Chamber Music Concert in Schloss Elmau (Germany) with the Members of UBS Verbier Festival Orchestra (Schubert Octet).

He has also been Official Demonstrator for Clarinet, and is currently Professor Assistant at the clarinet department and Docent Professor for Chamber Music Academy of Arts ñ Novi Sad.