Classical Artists/Educators
Paul Brodie, O.C.
"Alexander reeds have excellent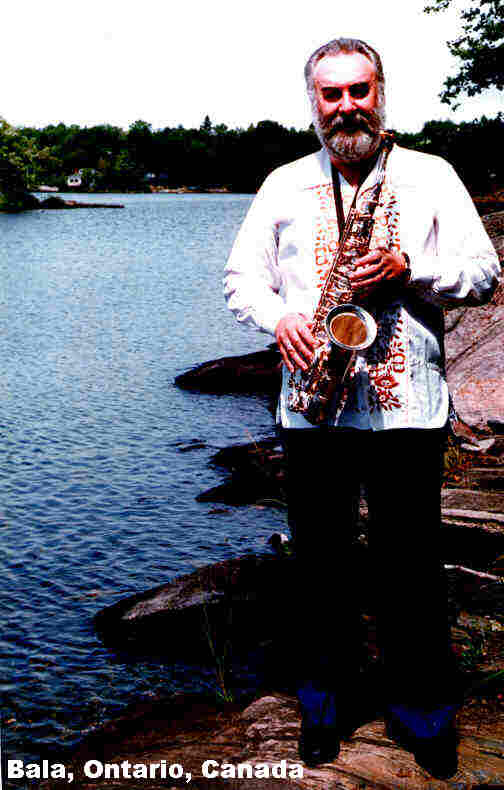 response in all registers, brilliance of tone and great sustaining quality. They break in very quickly and seem to hold up well after several hours of playing.The quality of the cane and cuts are excellent for both "DC" and Classique". I just tried an alto reed in concert which was super and the sopranos work just as well! I highly recommend these reeds to saxophonists the world over. Two thumbs up!"
The achievements of this virtuosic, and warmhearted Canadian man are just awe inspiring. He truly is a LEGEND in his own time. To quote the renowned classical saxophonist, Ted Hegvik, "How does a man accomplish all this? In only one lifetime?"And just by playing the saxophone? "
Consider the following:
His education: Attended the University of Michigan won the audition to play in the Michigan Symphonic Band under the direction of Dr. William D.Revelli. This was followed by studies with master teachers and saxophonists Larry Teal, Al Galladoro, and finally the illustrious French Master, Marcel Mule, who was considered by many to have been greatest classical saxophonist in the world at that time.
Concerts: Mr. Brodie then from 1960 went on to play over 3000 concerts with 34 orchestras in 17 countries, having the distinction of been the first concert saxophonist ever to play in India, Singapore, Hong Kong, the Philippines, Australia, and the first to be invited by the People's Republic of China to teach, perform and record! This is part of the reason at least, that the name "Ambassador of the Saxophone", describes him best.
Recordings: With over 50 records to his name, he is considered to be the most recorded concert saxophonist in the history of the instrument.
Special Distinction: In 1994, Paul was appointed "Officer of the Order of Canada", Canada's highest civilian award (equivalent to being knighted in England).
Warren Beatty featured his saxophone playing on the soundtrack of his academy award winning film "Heaven Can Wait". He was also included on "Clyde Gilmour's Favourites", has appeared as a soloist with most of the leading orchestras in Canada and has often been featured on CBC AM/FM Radio and CBC, CTV and Global Television.
Teaching: Paul has performed and lectured at over an incredible 120 Music Schools, Conservatories, Colleges and Universities. On top of this, he founded his own "Brodie School of Music and Modern Dance" with his lovely wife of 40 years Rima , a talented and renowned dancer, teacher and internationally recognized Fibre Artist in her own right...
On top of this, he has had an amazing 57 composers write original works specifically for him.
Incidentally, I strongly recommend Mr. Brodie's new autobiography, Concert Saxophonist, "Ambassador of the Saxophone". This traces his beginnings as an eager student of the saxophone who later went on to fulfill his dream of becoming a world class saxophonist, spreading the message of the instrument around the globe in a way few other musicians of any instrument have done.
This is a great book, and I think a must for any student seriously considering to enter the field as a professional because Paul "tells is like it is" and it is a highly enjoyable and informative read by one of the true legends of the instrument, who also happens to be one of the most genial and kind saxophonists around, as I and his legion of friends and fans will attest. For order information, please click on the following link: Paul Brodie's "Concert Saxophonist, Ambassador of the Saxophone"
Dr. Jennifer Bill
"I played on Alexander reeds for the first time in 2000 and have never looked back. Each Alexander reed I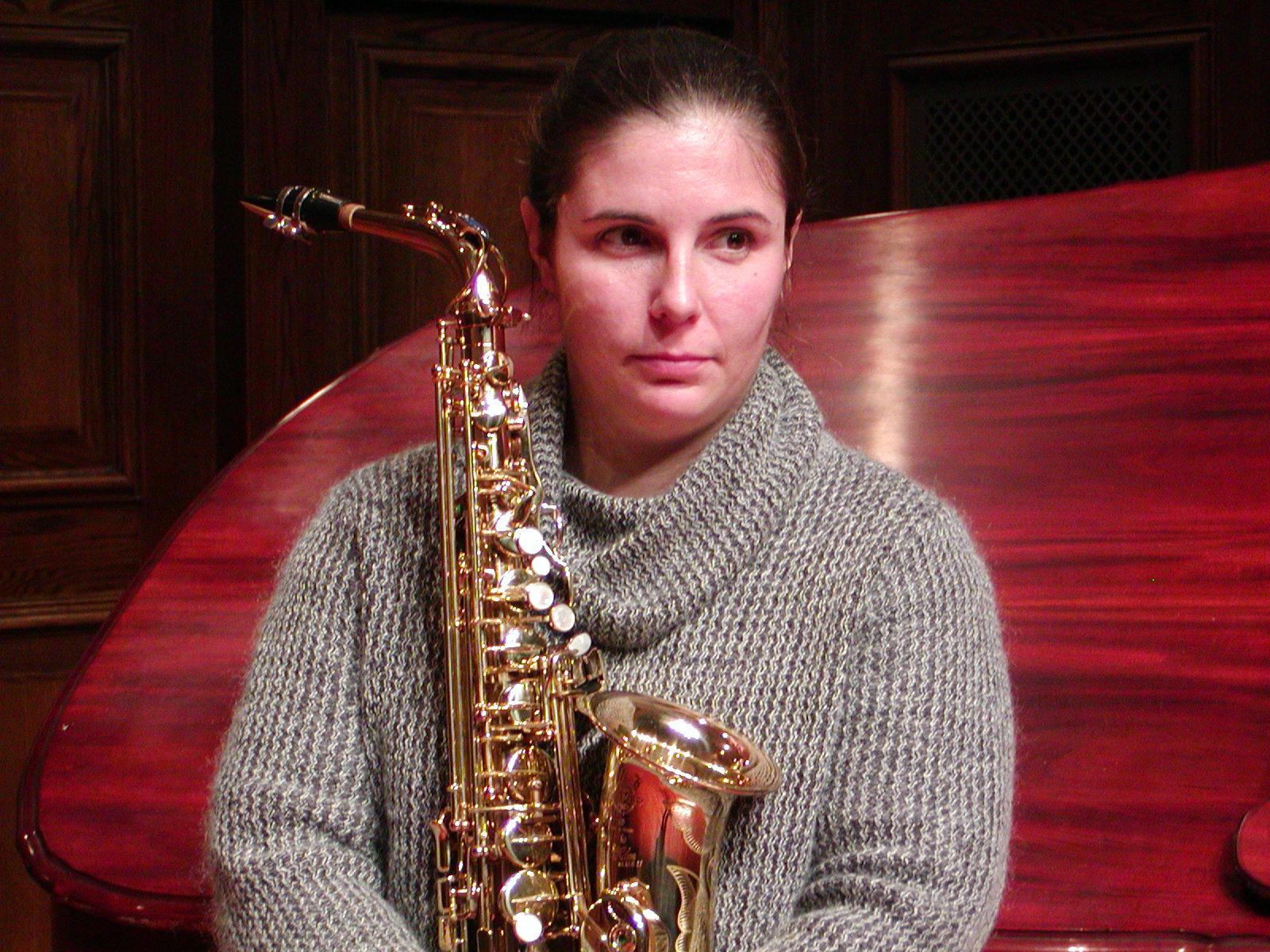 use has a sense of personal care and quality craftsmanship. Every Alexander reed is consistent in its rich tone quality, long-lasting endurance and superb response. These consistencies are what make Alexander reeds the best! Using the Alexander Classique and Superial reeds I find freedom in my playing that other reeds will just not allow. I recommend Alexander reeds to all of my students so they may experience this same kind of freedom.

I have been ecstatically happy with Alexander reeds from the beginning and feel lucky that there is such a great product on the market for saxophone players. Thank you, Tom, for producing such a quality product with amazing consistency. "

Saxophonist Dr. Jennifer Bill performs solo and chamber music with a variety of groups around southern New England, including the Back Bay Saxophone Quartet , and Brushreed. She has performed contemporary chamber music with a variety of artists including vocalists, clarinetists, cellists, flutists, taped media, percussionists and dancers.
Dr. Bill is currently Faculty at Boston University (saxophone, chamber music, director of concert band, and class woodwinds), a Special Lecturer in Music at Providence College (conductor of symphonic winds, theory, ear training, music appreciation, saxophone, and chamber music), and a Faculty member at The Boston Conservatory (liaison between Boston Conservatory and the Boston Arts Academy). She is the saxophone instructor, wind ensemble coordinator, and assistant director of the saxophone workshop for the Boston University Tanglewood Institute. Dr. Bill also serves on the Board of Directors for World-Wide Concurrent Premiers and Commissioning Funds, Inc.


Yusheng Li
"Alexander Superial is my favorite
reed. I am particularly fond of "DC# No. 3.5 and "Classique" No. 3. The brightness and thickness of the sounds DC produces are very impressive; while the concentrated and splendid sounds made by the Classique are just unique. I use the two kinds of Alexander reeds during my performances. There is no doubt that the technology of manufacture is the best one worldwide. I'd like to thank Tom immensely for his contributions to saxophone reeds."
Concert saxophonist Yusheng Li received high marks in his diploma recital for the saxophone from the Royal Conservatory of Music in Canada. He is the first player in China to get such a the saxophone diploma overseas, in this case under the personal instruction of Paul Brodie. He founded the New World Saxophone Quartet of Sichuan Conservatory of Music,the NWAQ made their first CD in 2002. Now Yusheng Li is an associate professor of saxophone at Sichuan Conservatory of Music and performs at concerts throughout China. Mr. Li has also been instrumental in introducing the saxophone and its music to China by helping to arrange for concerts of other prominent classical saxophonists from abroad in conjunction with the Chinese Government.
Photo from Yusheng Li's recent Yamaha Corp. sponsored Saxophone Quartet Tour of China